VOLUNTEER SPOTLIGHT:
Deena Albert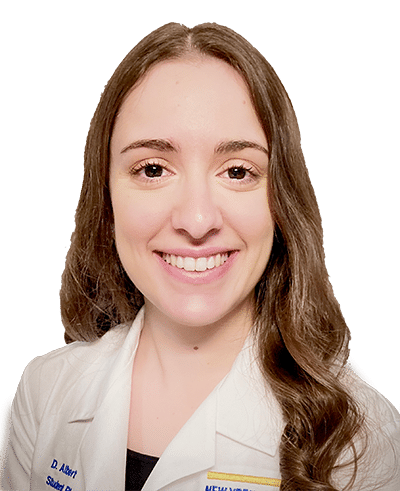 ALYN Hospital is the "We can do it place. It is a place where every small achievement is celebrated," agrees Deena Albert and her mom, Sharon.
After hearing about her mom's six-month experience volunteering at ALYN in the 1980s and then years later taking a family trip to Israel during which they visited the hospital, Deena decided to spend her gap-year after high school at a program that also allowed her to volunteer at ALYN as part of her experience.
When Deena landed in Israel a couple of years later, she immediately signed up to volunteer at ALYN Hospital. Her Hebrew was not great but that did not stop her. She was so excited, she convinced two of the other girls who were on her program to join her.
Deena was paired with Peleg, a 7-year-old patient with cerebral palsy, a disorder that affects movement, muscle tone, balance and posture. Even with his leg braces and walker, walking was quite difficult. Deena spoke only English and Peleg only spoke Arabic, but they bonded during Peleg's sports therapy sessions.
Deena describes the best moment of her life – one that she shared on the impact statement of her medical school application – was Fun Day at ALYN. It was right before Purim. The hospital staff wanted to host a fun celebration for the children, so a bounce house was remodeled to accommodate the children's abilities.
When Peleg's turn came, Deena was not sure that Peleg would enjoy this activity or even be able to participate since he relied so heavily on his leg braces and walker. She still remembers several years later seeing Peleg's huge smile and hearing his loud laughter while he was having such an "amazing time like never before." She hopes that he shares this memory, too.
For all the children it was "pure bliss." Deena imagines it made the biggest difference in their lives.
It was her experiences at ALYN that confirmed Deena's decision to go to medical school. She wanted to go into the healthcare field. Both her parents are, too. However, watching and being a small part of the way ALYN practices the art of medicine convinced her to become a doctor. The caring and respect provided to all the patients and their families focusing on the goal of helping each patient according to their abilities is the approach Deena aspires to as a doctor.
Today, Deena is in her third year of medical school and her face still lights up when she talks of ALYN Hospital. ALYN was Deena's first encounter with healthcare professionals who genuinely love their job! "It's the right way to do healthcare" - the ALYN way!
If you have volunteered at ALYN Hospital, please contact us. We would love to hear about your experience, too!
Need Assistance?
We Are Happy to Help