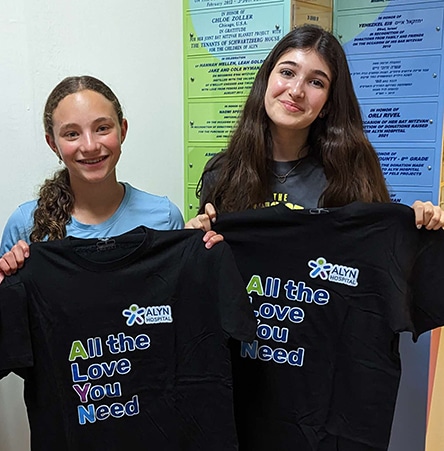 Engage in Empathy is a special STEM (science, technology, engineering and mathematics) program sponsored by the American Friends of ALYN Hospital.  Through this program participating students will learn about challenges faced by children and teens with physical disabilities such as cerebral palsy, brain injuries, spinal cord injuries, and neuromuscular disorders; increase the empathy they feel for contemporaries with challenges and physical limitations; and apply scientific, mathematic, and literacy skills to help develop real-life solutions to some of these challenges.
In short, it is our hope that this program will increase the passion and commitment that students feel towards helping others and providing those with physical challenges the opportunity to live a more independent life.
This past year provided a perfect example of how this program is working to build connections and to enable students to use the material they are learning in school and apply it to real life situations.
Liam Lotan and Taya Schwartzbard were 8th grade students at Solomon Schechter of Bergen County (SSBC).  SSBC has been a regular participant in this and has even linked it to their annual science fair.  Each student has several options among which to choose for the science fair, one of which is to design and create a prototype to help solve an actual challenge faced by a patient at ALYN Hospital.  Liam and Taya decided that this would provide the most meaningful opportunity for their science fair project especially as it would enable them to have a "chance to make another child's day better."
So Liam and Taya decided to try and solve "Lina's challenge". Lina is a 13-year-old girl who has muscular dystrophy. She is not able to use her body or limbs and has limited movement of her head. One of the things that is very important to Lina is the ability to put on lipstick independently.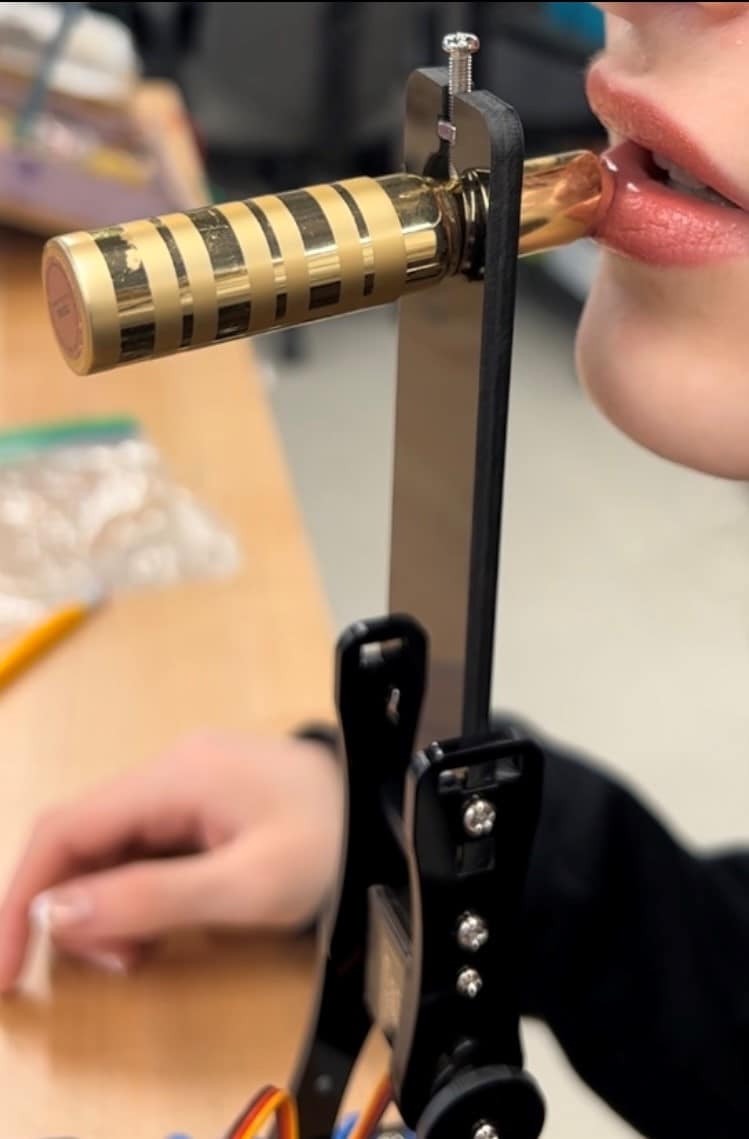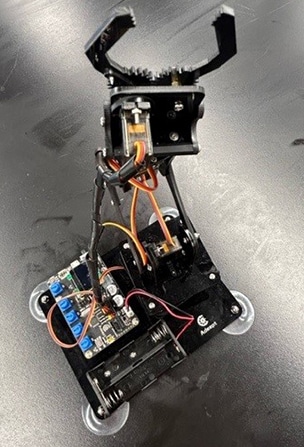 What inspired Liam and Taya to choose this project? They preferred to select a project that would help directly improve someone's daily life. Because Lina is about their age, they could more easily understand just how important this is for Lina.  The fact that this is such a simple task for Liam, Taya, and their friends provided them with additional motivation to try and solve this real challenge for a real person. They wanted to help Lina put on lipstick since that would "make her happy."
After first trying to use a 3-D printer, they realized attaching a robotic arm to a tabletop or to Lina's wheelchair tray would be more practical. There were issues with the initial coding program, so they had to switch coding languages twice. It took a long time to perfect how accurately the robotic arm applied the lipstick in the shape of real lips. But they persevered, recognizing that to truly help Lina, the result needed to be accurate. Repeatedly they tested the process on themselves and on a piece of paper.
Every spring, Solomon Schechter of Bergen County takes a group trip to Israel. This provided Liam and Taya with an opportunity to visit ALYN Hospital in person where they presented their robotic arm prototype to the Innovation Space staff.  They were also able to tour the Innovation Space, learn how assistive technology products are made at ALYN, and saw products that have been completed that allow patients the opportunity to participate in a childhood activity that their condition would not typically allow them to participate in. They were impressed with how ALYN regularly uses advanced technology for diagnoses and treatments.
As they move on to high school, they plan to learn new skills that will allow them to continue helping improve other people's lives in meaningful ways. Taya plans to participate in an engineering and entrepreneurship program next year. Liam looks forward to exploring where her newfound interest in technology, and helping to impact other people's lives, may lead. Maybe one day they will return to ALYN as volunteers, interns, or as staff.
Whatever comes next for them, they highly recommend that when offered the opportunity, "take the chance to make another child's day better. It's about helping others."
Need Assistance?
We Are Happy to Help