We must help children build their characters
by prescribing fun - opinion
By Dr.

Maurit Beeri;

Published: 

DECEMBER 15, 2022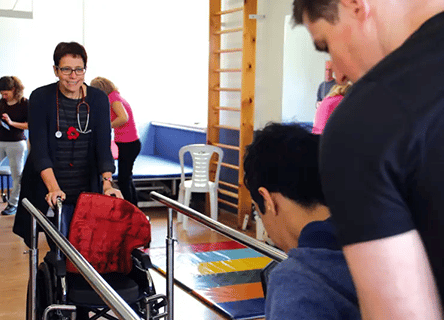 Engaging in age-appropriate games, children acquire the social skills, confidence, empathy and joy necessary to become mature adults.
Several years ago, I overheard a conversation between two children playing in the school of the ALYN Hospital Pediatric and Adolescent Rehabilitation Center. The first child, Or, announced confidently that he intends on taking the other child, Esther, to be his wife. Esther, far from impressed, primly replied: "I'll never marry you! You don't observe the Shabbat!" Giggling at the exchange, I felt a sense of accomplishment at this witty, age-appropriate banter between the two.
Anyone looking from the outside would have probably seen children who, in a different day and age, would be considered worthy of pity. Six-year-old Esther was paralyzed from the neck down, and Or had skeletal deformities. Both children were dependent on portable mechanical respirators. Despite these harsh facts, their disabilities played no role in this exchange. They were simply having fun. Their medical challenges and the limitations imposed upon them were just another fact of life for these two friends.
Looking at Esther and Or, I realized that their parents, teachers, caregivers, and society at large are tasked with a mission larger than simply caring for their physical needs: we all have a responsibility to create a community and a culture in which these young people's personal values dictate their futures, rather than their disabilities.
Contrary to popular opinion, impairment and disability are not purely physical; rather, they are predominantly a reflection of the subjective and that indefinable gap between our own personal expectations, and who we really are. Children who are raised as objects of pity, will probably internalize this perception, and act accordingly. Individuals pitied as children are more likely to become needy adults, never having been challenged to hold themselves to a high standard of achievement.
To succeed in helping our patients become active, independent adults, it is not enough to provide medication, therapies, and assistive devices. We must help the children to build their characters. This can only be achieved via the developmental milestones we call "play." In practicing and engaging in age-appropriate games, children acquire the social skills, confidence, empathy, and joy necessary to become mature adults.
Need Assistance?
We Are Happy to Help