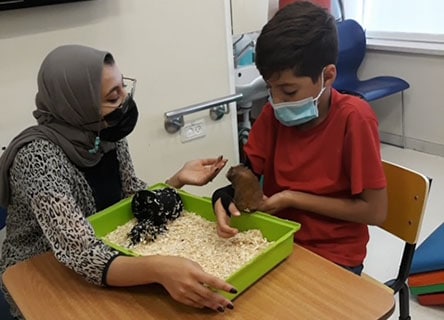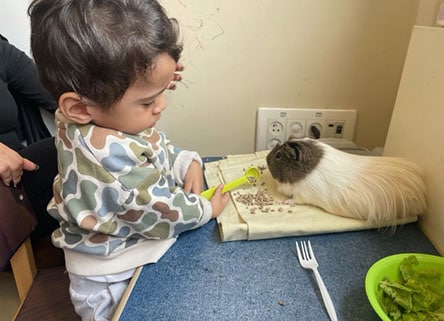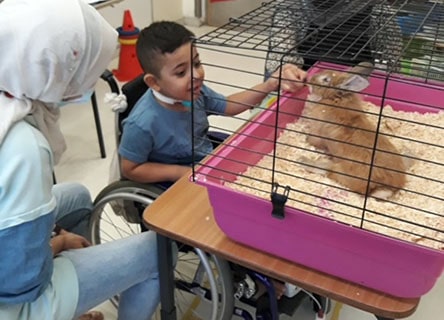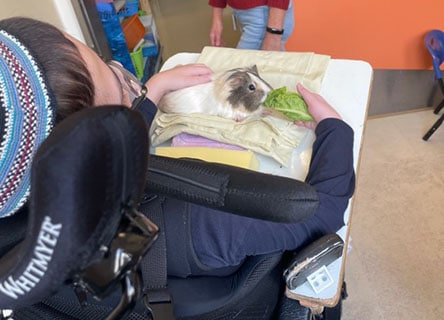 The inclusion of Animal-Assisted Therapy (AAT) in a program of therapeutic rehabilitation treatment at ALYN Hospital has been proven to generate positive benefits toward the achievement of therapeutic goals. Therapists worldwide are aided by the unique qualities of animals to help stimulate their patients' motivation to withstand intensive rehabilitation therapies, as well as to strengthen their self-image and to discover unknown strengths.
AAT has been shown to help reduce blood pressure and improve overall cardiovascular health. It can also release endorphins that produce a calming effect. This can help alleviate pain, reduce stress, and improve a patient's overall psychological state. The Animal Assisted Therapy Program at ALYN is run by a professionally-trained animal assisted therapist who works in close conjunction with the hospital's conventional therapists, including psychologists, physiotherapists, occupational therapists and speech therapists. Hundreds of children with physical challenges benefit from the AAT Program at ALYN Hospital each year.
This unique integration of animals – such as guinea pigs, birds, snakes and rabbits – in rehabilitative therapy has been studied and proven to show that the level of cooperation of children during the course of the physiotherapy treatment is noticeably higher when animals are included in the treatment. The conclusion that arose out of the research: integrating animals in therapeutic treatment with children increases motivation, a feeling of well-being and a sense of control, and aids in the improvement of functional abilities.
Additionally, AAT has proven to be extremely helpful when treating children from abroad, who are generally admitted to ALYN Hospital for intensive rehabilitation and stay for only short periods of time. Not only do their visits tend to be shorter, so there is an emphasis on helping them achieve their goals as quickly as possible, but also there is often a communication gap. With AAT – no language is necessary, making it an invaluable and effective tool.
Need Assistance?
We Are Happy to Help