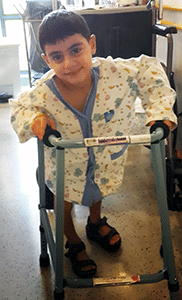 Art, running, Spiderman and playing with friends are highlights of Harel's life just like any child. Thanks to ALYN Hospital, Harel is enjoying these things.
In an unexpected turn of events near the end of an otherwise normal pregnancy, Harel was born with a bacterial infection. He developed a fever and was put on a ventilator. His parents didn't know what would happen. Eventually, this treatment helped to stabilize his condition and his family was able to take him home.
However, by age 2, Harel was not walking and his mother noticed he would not put pressure on his left foot to stand. Doctors discovered his left leg was slightly shorter than his right and that his knees were angling in toward each other. His parents were told the bacterial infection he had at birth inhibited some growth, and that without surgery – and likely a series of surgeries until he reached adulthood – his ability to walk at all would be very limited.
At 4-years old Harel had his first limb-lengthening surgery on his left femur. He has undergone three additional limb-lengthening surgeries and several other more minor surgeries – 7 surgeries in just 10 short years.
After each surgery Harel came to ALYN for a minimum of 6 months of intensive day hospitalization, physical therapy and hydrotherapy for stretching, strengthening, improving his range of movement and improving his gait.
Thanks to ALYN's holistic approach to support children's physical, social, emotional, and academic development, Harel also benefited from classes in cooperation with the teachers in his school, and one of Harel's favorite things at ALYN, art therapy. Additionally, Harel's parents received support from psychologists and social workers.
Cheerfully Harel remembers, "At ALYN, I love to draw in art therapy. In first grade, I drew a picture of Spiderman that the art therapist still has hanging today!"
Harel's most recent limb-lengthening surgery was in April 2022. When he arrived at ALYN after the surgery, he was not allowed to put any weight on the leg. Grateful for the therapies and retraining he received, he regained sufficient strength in his left leg to be able to put full weight on it again and to even run for very short distances!
Harel will need another 8 surgeries before his 21st birthday. The caring and innovative ALYN Hospital staff will be with him before and after each. They will advise him on how to continue physical activity and daily exercises for stretching and strengthening in preparation of each surgery and offer the rehabilitation, love and support he needs after each. ALYN will be with him and his family every step of the way.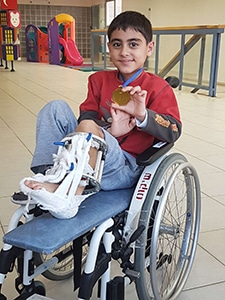 "I remember that after one of my surgeries, on a day that I wasn't at ALYN Hospital, I went to school using a wheelchair and it was great fun, with my friends taking turns pushing me through the hallways."
Need Assistance?
We Are Happy to Help