ETAI'S BITTERSWEET BAR-MITZVAH CELEBRATION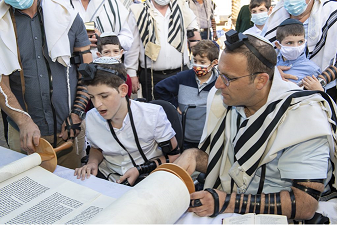 In November 2020, Etai Rimel celebrated his Bar Mitzvah like any other 13-year-old boy. Under most circumstances, it would have been a fully joyous event for his family. In Etai's case, it was bittersweet. Exactly one year before his aliyah to the Torah, Etai was in a tragic car accident, which took the life of his mother and three-week-old baby sister. Both he and his father were seriously injured. Etai was in a coma and he lost his left leg from the knee down. Both father and son use wheelchairs now. The Bar-Mitzvah was held on the same day as the azkara (memorial service) for his mother and sister.
After the accident, Etai was rushed to Shaare Zedek Hospital, where he was in a coma for nearly three months. At many points, the doctors were not confident he would recover at all. Miraculously, he awoke and, once he was ready, he transferred to ALYN Hospital for intense rehabilitation services. His regimen consists of physical therapy, occupational therapy, hydrotherapy and psychological treatment. Not only has Etai undergone ten different surgeries, he has also had to learn how to speak again. He stays at ALYN during the week and returns home to his father and three siblings for the weekends.
With the help of ALYN's rehabilitation specialists, Etai is gradually improving, beginning to regain his speech and getting stronger every day. His Bar Mitzvah was both meaningful and sorrowful and the family realizes that even with the tragedy there is also room for celebration.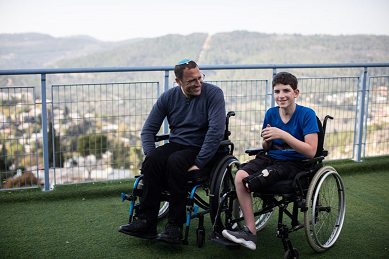 Need Assistance?
We Are Happy to Help