Elazar and his parents receive tools for at-home care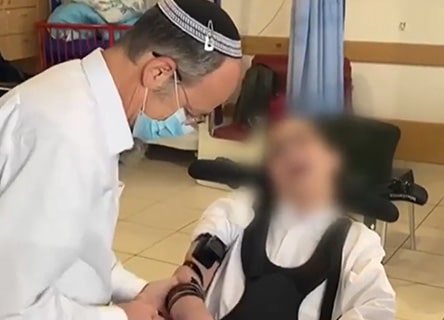 On April 30, 2021, then 12-years old, Elazar Berger was crushed under the crowd of people at the tragic event in Meron, Israel. He was the youngest survivor and the first victim to be evacuated to a hospital. He spent more than one month in the ICU. When he was finally discharged from the medical hospital, he was transferred to ALYN Hospital for rehabilitation.
Elazar spent the following three months as an in-patient at the ALYN Respiratory Rehabilitation Department with his parents at his bedside. He was dependent on respiratory assistance and was in need of being weaned off of pain killers, along with facing several physical challenges. The goal was to wean Elazar off the respiratory aids and the medication, while also following an intense rehabilitative therapy protocol.
His mother, Reuma said, "In the hospital, they told us that this is a 'long-distance run.' We didn't want to believe it, but it turns out they were right, they knew."
Elazar's intense rehabilitative therapy protocol included occupational therapy, physical and speech therapy and hydrotherapy. By October 2021, Elazar was able to breathe on his own, and he was transferred to the ALYN General Rehabilitation Department to continue his physical rehabilitation.
Elazar also attended ALYN's educational services for hospitalized school-aged children, participating in Hebrew classes, music and computer.
Parents play a significant role as partners in the success of their child's rehabilitation from the beginning. This was especially important for Elazar. While Elazar received treatment at ALYN, his parents were provided with support to prepare for his eventual return home. A psychologist helped them prepare for the changes that may occur when Elazar is back home and in their community. A social worker helped them navigate Israel's healthcare system so they could access the maximum benefits available. Medical staff and para-medical therapists taught Elazar's parents how to care for him at home, teaching them about the equipment and medical supplies required.
A year later, May 2022, Elazar was ready to go home to be with his family.  His family is thrilled to have him back home. They are dedicated to caring for Elazar and assisting him with his ongoing rehabilitation to continue improving his condition.
His father, Dov, expressed his gratitude saying, "Everyone has their part to play. We have to pray hard and, in the hospital, to work hard."
Dov also said, "Elazar arrived at ALYN in a very difficult medical condition and left in an immeasurably good medical condition. Beyond the medical treatment, Elazar received a lot of love and warmth that contributed a lot to his recovery. Elazar was happy to come to the hospital and felt safe and relaxed, which cannot be taken for granted."
At ALYN, our goal is always to send each child home to live with their family in their communities with as much independence and mobility as possible.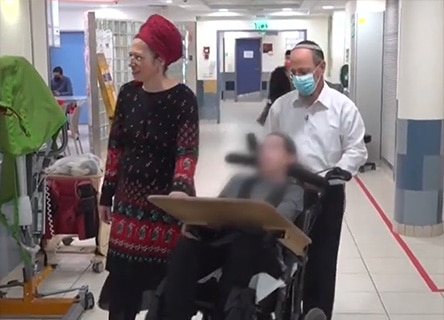 Need Assistance?
We Are Happy to Help