HEELS OF LOVE: LESSONS FROM THE NEGEV
DAY ONE:
Off the plane from the US on Monday and off the bus for the start on the hike on Tuesday morning. Both jetlagged and excited. Was I even ready for this? I'm a runner. I do yoga. But hiking in the desert for three days is a whole other ballgame, as they say!
My decision to join in Heels of Love was a last-minute one. I needed things to align on the US-side to make it happen. And here I was. Hiking boots and Heels of Love t-shirt, and I was ready to go.
I met up with the other 29 participants in the Scenic Route. This would be my team for the day. We took a long bus ride to the starting point. We spent the morning on a route up Har Amir along a packed dirt path. Har Amir is known for its magnificent views and offers plenty of the sandstone scenery for which the Eilat Mountains are known. Our guide, Keren, was awesome.
In the late afternoon, we joined with the Adventure Route, ate delicious food and had some wine. The evening ended with a speech by Dr. Maurit Beeri, Director General of ALYN. It was an intimate gathering to learn not only about the work of ALYN hospital but also get to know the people behind the scenes.
We made our way back to our tents, underneath the beautiful desert sky. My head hit my pillow and I slept heavily, with excitement about what Day Two held for me.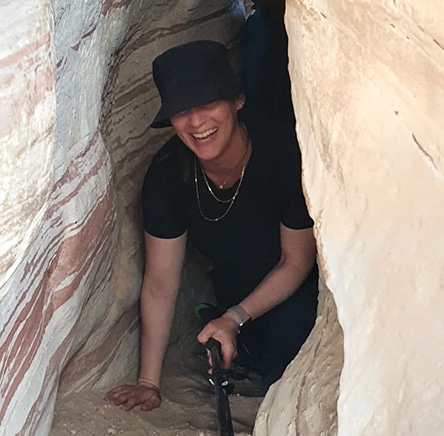 Lesson learned today:
Humility and gratitude. To break the ice, our guide Keren had us play a game and pick one word that we would choose to wear on our t-shirt. Dr. Naomi Rosenberg, Director of SHACHAR, ALYN's Educational Medical Day Care Center, couldn't pick just one as she felt humility and gratitude combined are more powerful. Throughout the hike, there were plenty of opportunities to feel both!
DAY TWO:
Day Two started with a short bus ride at 7am and brought us to a newly man-made Egyptian border heading south. The view was spectacular. At the lookout we sat for a few minutes soaking in the beauty and sounds of nature, only to be disrupted by our guide playing the famous Joni Mitchell song "They paved paradise and put up a parking lot…". Guess it was time to move on!
We continued strolling through Nachal Gishron and learned about topography and heard some stories about refugees crossing the Egyptian border. We then started our descent using ladders, and slowly and carefully hopping between boulders. We had a great transit through clean sewer pipes and sliding through narrow rocks.
And when you descend you must ascend… the climb up was more challenging than expected but we all powered through!
We ended our hike with beers on the beach at Eilat. Our return to the campsite was met with strong winds, making setting up tents and cooking dinner the final challenges of the day.
Lesson learned today:
I developed an increased appreciation for pausing to attend to the smaller details of life. Sharing your story or listening to someone else's allows us to stop our hustle, communicate, gain and share new insights.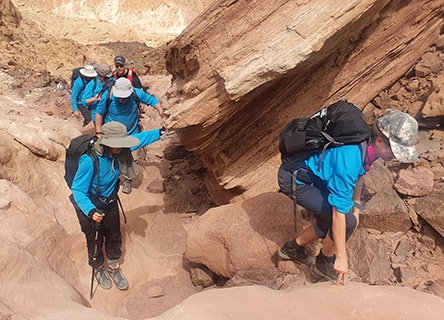 DAY THREE:
We started walking at 7am sharp. Same desert, totally different view. All sandstone with unique rock formations. As we completed a narrow ascent up Mount Tzfachot, ALYN supporter and fellow hiker, Elise Sheppard, turned and said, "Who would think that a place so barren would be so spectacular?" It really was. We all stopped to soak in the beauty of nature.
The hike was not only about the walking and nature; I had the pleasure of speaking with each one of my teammates - learning about them, finding their connection to ALYN. Some participants joined the hike because of friends, some had read a convincing "hiking in Israel" blog written by  a participant about her time on the 2020 hike, and some have shifted from our bike ride, Wheels of Love, to this unique smaller-scaled program.
The day ended with a private VIP tour at the Dolphin Reef in Eilat. We learned about the three female dolphins who occupy, at their own will, the open waters of the Red Sea. The entire group was moved by the stories told by our Dolphinarium guide. We then headed to the beach to conclude Heels of Love 2022 both by enjoying another delicious meal prepared by our logistics team as well as by sharing a few words of goodbye.
I want to say thank you to our guides, Ben and Keren, for sharing their wealth of knowledge and passion for Israel. Thank you to Ofer and his team who cooked, cleaned and set up our campsite daily, embracing the challenges of the wind. Thank you to Tal, Yarden and the Special Projects team who seamlessly put together such a meaningful project. And to all my teammates – I am so grateful to have shared this lifechanging experience with you.
As a bonus - on the way home, we stopped at Yotveta for a break. A young man working the cash register stopped our group of hikers who were proudly wearing the ALYN-branded Heels of Love shirts and told us that he was at ALYN when he was just a toddler. He had cancer and was rehabilitated there. He is healthy and grateful for his time at ALYN. We were all touched by this coincidental connection to why, at that moment, we were all there.
ALYN is truly Israel's best kept secret.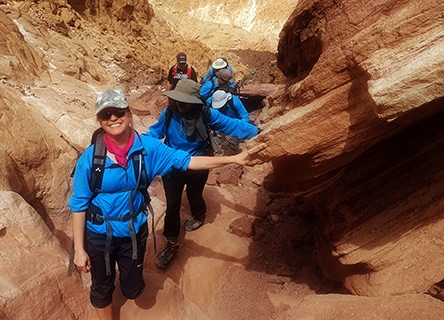 Lesson learned today:
The desert is a magical place. In the solitude, there is community. In the quiet, there is peace. It is both vast and intimate. In the simplicity there is great meaning.
Need Assistance?
We Are Happy to Help