From Inspiration to Innovation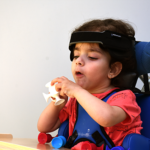 Headovations' purpose has always been keeping children safe. Founder and CEO Ben Cohen-Gazit couldn't stand to see a sight parents are all too familiar with: his daughter sleeping safely strapped into her seat, with her head slumped forward and swinging from side to side. After using his own improvised methods and finding no adequate solution on the market, Ben built a prototype of his own, began testing, applied for a patent within one year, during which he consulted with leading orthopedists, researchers, designers, and — of course — parents, to make sure he deeply understood the nature of the problem before creating a solution. The end result was NapUp Kids, a safe, comfortable headrest accessory that gently keeps the head up and back that can be easily installed in car seats and on other seats with a headrest. The NapUp was a hit and has since sold over 150,000 units in more than 35 countries.
Then Ben received a call from a special education kindergarten in Israel inquiring about creating a similarly-designed universal head support for children in wheelchairs. Poor head support for children (and adults) in wheelchairs can cause breathing difficulties and make eating and swallowing a challenge for both them and their caregivers. Identifying suitable head support generally involves trying and fitting multiple costly products to find the precise solution suited to each user's personal seat and their individual needs. Ben was already familiar with the lack of sufficient head support in wheelchairs from his experience with his father, a diabetic with an amputation who spent most of his elderly life in a manual wheelchair without the support of even a basic headrest. So he expanded Headovations' mission to providing better head support for those who need it most - the elderly and children in wheelchairs. This led to the development of the HEADALOFT, designed to provide proper head support for people in wheelchairs that attaches to their basic built-in headrests. For people who use wheelchairs with no existing head support, they began to develop the HEADALOFT 360, a universal head support system that can be simply installed on almost any existing wheelchair, powered or manual, and adjusts to each user's personal support and positioning needs without tinkering or interfering with the wheelchair itself.
To perfect the HEADALOFT, Headovations worked with children with disabilities, their families, and experienced rehabilitation professionals to make sure they created a comprehensive solution. Ben sought out a design partner that would complement his team's technical skills by teaching more about their users and giving them insight into how to better serve their needs. A partnership with ALYN was a natural next step to getting trusted clinical recommendations.
From the first meeting with Headovations, our specialists were impressed with its ability to alleviate breathing and eating issues, as well as the socio-psychological benefit to patients who can now keep their head up, helping them see the world around them and actively participate in the community. At the same time, while the HEADALOFT 360 was in the process of being developed to target the elderly, our staff recognized its potential as an all-in-one solution for children as well with a few adjustments and additions. For example, some children with disabilities have a recline or tilt to their wheelchair, so looking straight in front of them requires the headrest have the ability to be tilted forward. Likewise, allowing for isolated width adjustments on each side is important for users with asymmetrical measurements for whom having their head vertical and upright may not be suitable. Drawing inspiration from the HEADALOFT 360's occipital support, our team recommended an optional occipital support add-on for the HEADALOFT for who don't require the full headrest. These discussions resulted in the expansion of our collaboration to include the HEADALOFT 360. Headovations was quick to implement our recommendations, and brought an initial prototype with forward tilt, isolated width adjustment, and occipital support to our very next meeting.
A single effective, versatile, well-designed, high-quality, user friendly product that doesn't compromise on personalization or break that bank - that's the holy grail for assistive technologies and devices. Unfortunately, it's quite a challenge to find commercial rehabilitation solutions that tick all those boxes, especially for children, and bespoke solutions are generally prohibitively expensive with limited reach and impact. This is a prime example of how scalable personalization is possible through profound, up-close knowledge and understanding of the users and their needs. The success of our partnership with Headovations has led us into further collaboration on new project for children with disabilities that reaches beyond head support, which is still in the works. Stay tuned for updates on what's coming next!
Need Assistance?
We Are Happy to Help