DONOR SPOTLIGHT:
LAUREN MESSER'S MITZVAH OF LOVE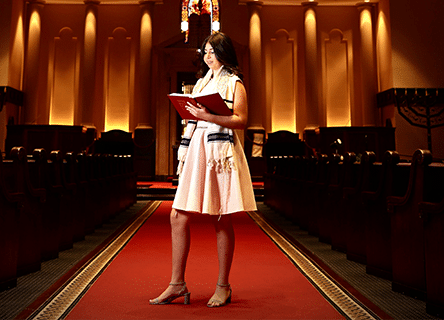 On Shabbat morning, November 6, 2021, Lauren Messer stood on the bimah of Temple Emanuel in Closter, New Jersey and celebrated becoming a bat mitzvah. Surrounded by family and friends, Lauren had so many achievements of which to be proud that day. Notable among them was that she had raised nearly $5,000 for ALYN Hospital as part of a Mitzvah of Love project.
In the months before her bat mitzvah, Lauren decided she not only wanted to take on a mitzvah project, but she also wanted to pair it with a goal she was going to set for herself. Her family knew about ALYN Hospital through close friends and Lauren embraced the opportunity to do something that would help children in Israel. "I thought it was important to do something for other children, and I am very connected to Israel, so raising money for a children's rehabilitation center in Israel seemed like a great project for me," Lauren explained.
The American Friends of ALYN Hospital (AFAH) office had sent her information about the hospital and shared a video with her about ALYN's work "When I saw the video, I knew I wanted to raise money for ALYN because it showed me what I was raising money for and where the money would go," Lauren said.
In May of 2021, Lauren volunteered at the AFAH Wheels of Love: USA bike ride in Morristown, New Jersey. As a volunteer, she had the opportunity to meet the AFAH staff and learn even more about ALYN's work. While both her parents participated in the ride to support ALYN Hospital, Lauren spent the day with her brother, Sam, helping at registration and the rest stops while cheering the riders on.
For three months, Lauren committed to running three times a week and asked that family and friends support her efforts by donating to ALYN Hospital. As of today, Lauren has raised close to $5000 and is continuing to fundraise. She has earmarked her donations for the purchase of personal protective gear for the children at SHACHAR, ALYN's Day School. Her fundraising link is still live, click here.
This summer, Lauren and her family will travel to Israel with their synagogue. During that trip, she hopes to visit ALYN Hospital so that she can see how her Mitzvah of Love gifts are being used at SHACHAR.
Her advice to other bnai mitzvah who are choosing their own Mitzvah of Love project? "Donate somewhere that you really care about because it will help keep you motivated. It doesn't have to be a running project, but pick something that has meaning for you."
***
AFAH's Mitzvah of Love program encourages bnai mitzvah to make a difference in the lives of their peers – the children undergoing rehabilitation at ALYN Hospital. The lesson learned is that everyone, even the youngest members of our community, can participate in tikkun olam and have a meaningful impact. To learn more about the Mitzvah of Love program, click here.
Need Assistance?
We Are Happy to Help