"You make your own rainbow – it can either be colorful or boring!" says Aliza who grew up at ALYN Hospital.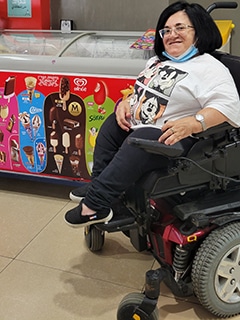 Aliza, who turns 56 this month, was born in the north part of Israel, one of eight children. During her first two weeks of life there were no noticeable problems, but after several incidents of her bones breaking and needing emergency care, she was diagnosed with Osteogenesis Imperfecta (also known as Brittle Bone Disease). A doctor recommended ALYN Hospital as they had experience with this disease.
At the age of three, Aliza came to live at ALYN Hospital, which was then primarily a long-term orthopedic hospital offering intensive rehabilitation services. Back then, there were three long-term departments, each with approximately 24 children. Aliza remembers that while she missed her family terribly, even then she was grateful that ALYN took such good care of her and provided the therapeutic treatments she needed, including physical, occupational and speech therapies, as well as hydrotherapy.
Aliza shared, "doctors used to encourage families not to deal with their children with disabilities and to put them in an institution. Now the norm is to keep them home and this is on the one hand very hard for the parents, but very good for the children and for society."
As a resident of ALYN, Aliza attended school in the hospital. In those years, school only went through sixth grade. Aliza and three friends wanted to continue their schooling and insisted on going to high school. After much searching and negotiation done by the ALYN staff, the four of them were enrolled in the only main-stream high school in Jerusalem that was willing to accept children with severe physical disabilities. It was very hard at first for them to integrate into their age-appropriate grade levels, but they persevered and succeeded in school. They received continued support and guidance from the staff and volunteers of ALYN to navigate socially and deal with accessibility issues. Aliza was one of the first patients at ALYN to complete 12th grade, including passing matriculation exams. (See attached article from the 1984 ALYN News about their graduation.)
After high school Aliza had to face integrating into society. ALYN prepares graduates to be independent with life skills like shopping, banking and transportation. She applied for many jobs and studied hard to improve her English. One job opportunity became available and she has been there ever since. Aliza secured her own apartment and became the manager of the kiosk at ALYN Hospital!
"Working at ALYN has really helped me; it's like therapy… I understand that everyone is different, and we need to accept those who are different from us. The more I talk with people, the more they realize that the disability is not who I am."
Aliza met her husband, David, at ALYN when he was volunteering. Due to Aliza's brittle bones, some doctors discouraged pregnancy but with careful monitoring they have two daughters. Like all parents though, the worries didn't end once they were born; Aliza worried about how to raise and care for them. Aliza and David learned how to manage together and had a caregiver to help. When their first daughter was born, she recalls, "I had so many worries – maybe she will like the caregiver better than me, maybe she won't like that her mother is in a wheelchair. I learned that when we want something, we can do anything. I did everything myself, and I learned to better understand my disability and my abilities. I have made sure that my children had all the experiences of other children, even if I didn't enjoy something. We went to playgrounds, amusement parks and birthday parties. I was happy to see my children doing things that I couldn't do, and how they made them happy."
Aliza's determination and upbeat personality continues. She is grateful to run her kiosk at ALYN because it allows her to encourage and maintain a connection with current ALYN pediatric patients and their parents. They see how she has overcome so much, and it gives them hope.
Aliza says, "I speak with the children and the parents all the time and am living proof that someone with a disability can live a full life, have a family, work, contribute. We have children with very serious conditions and sometimes very limited abilities, but with help, they can be happy and succeed."
Aliza's philosophy, "Don't be closed-minded, we are not pitiful – we have disabilities, and it is not the end of the world. We have difficult situations, and the donor needs to know how to be on the side of the giver – to give in dignity to help even the most limited children be as healthy and happy as possible." 
Need Assistance?
We Are Happy to Help