The development of new assistive and rehabilitation technology and medical devices, from design to implementation, is a lengthy one. There are many steps along the way before one of ALYNnovation's many products can be available on the market. Each step, each success, brings them closer to providing life-changing technologies to children with disabilities worldwide. Products with the following high-tech start-up companies with whom the team at ALYNnovation have partnered are moving into the important phases of clinical trials and next-generation development: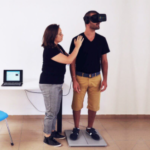 Libra@Home: Libra@Home is a neurorehabilitation medical device which uses a virtual reality platform that provides engaging exercises which motivate the user to take an active role in their own therapy. It is used with patients who have neurological and balance disorders and can be used both in a clinic and at home through a smartphone. Libra@Home technology has been available for adults for a while and their team has been working with ALYN to create a pediatric solution, which is now entering the clinical trial phase.
Takaro Tech :Takaro Tech launched initially as an affordable, versatile, portable playground with multi-touch tiles for kids to interact with their friends through fitness and games. For the past year, Takaro Tech has partnered with ALYN to adapt their device and library of games for remote physical and occupational therapy for children. The newest product which has come out of this partnership is beginning its clinical trial.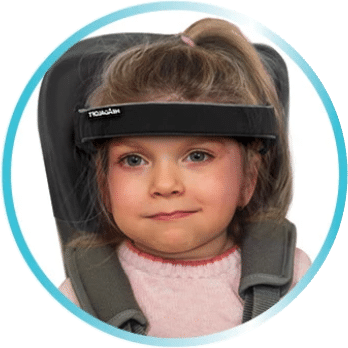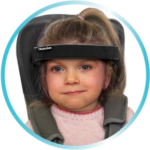 HEADALOFT: HEADALOFT is a patented solution by Headovations for children and adults who use wheelchairs and need comfortable and stable head support. The product was developed in collaboration with ALYN therapists and the ALYnnovation team. HEADALOFT comfortably and gently holds the head upright in a versatile, non-restrictive manner and can be used in a wheelchair, special safety car seat, stroller or any other special needs device equipped with a head rest. HEADALOFT reduces neck discomfort and enables smoother breathing, easier feeding and swallowing, better communication and, of course, much-improved napping. The first product was such a success, that Headovations and ALYN have developed a second product with an updated design that is more adaptable and can serve a larger population. A first prototype of the new product is now tested by users.
See our first article on HEADALOFT in the AFAH May Newsletter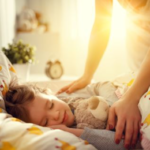 Cognishine: Cognishine develops advanced, creative, and effective tools for therapy and enrichment for all ages, using a rich collection of high quality, real-life multimedia resources. The company's mission is to provide professional teams a tool-box with various ready-to-use activities that are appropriate for both teletherapy and in-person sessions. Using a grant from the Israel Innovation Authority, Cognishine and ALYN Hospital are working together to develop the next-generation product for Cognishine, which will add many more personalization features.
The success of these products and the continued improvement and innovation mean that ALYNnovation can continue to fulfill its mission of transforming the lives of children with disabilities worldwide by creating the ultimate environment for technology innovation.
Learn more about ALYNnovation by clicking here
Need Assistance?
We Are Happy to Help