A NEW SCHOOL YEAR FOR ETAI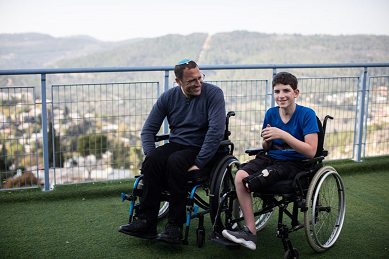 In our January newsletter, we featured Etai Rimmel, who had been treated at ALYN Hospital for over a year after having been seriously injured in a car accident in which he lost his mother and sister. In November 2020, a year after the accident, he celebrated his Bar-Mitzvah. This fall, Etai was supposed to start the school year in a new school. Instead, he will be continuing to learn at ALYN Hospital in classrooms for hospitalized children in which each child has an individually-tailored curriculum.
"For the hospitalized children, the start of the school year is a difficult reminder of everything they are missing out on, " explains ALYN Hospital Director General, Dr. Maurit Beeri. "The excitement of the books and notebooks and the new pencil case, the meeting with the teaching staff. Their friends accumulate shared experiences while they remain in a world of treatments and difficulty and different experiences from everyone else. Part of our job, as part of the treatment, is to help them channel their disappointment and frustration into an effort to cope and overcome – and sometimes even gain emotional strength – to actively participate in the rehabilitation process with motivation to return as soon as possible to their classroom and their friends."
"I think I learned better at ALYN last year than my friends did in school!" Etai laughs. "They were learning on Zoom and barely studied while I was learning in private lessons with teachers at ALYN, both during lockdowns and throughout the year."
Etai shares, as is typical of a boy his age, that he is happy that he does not have to go to school, but later in the conversation admits that the thought of being able to return to the classroom with his friends motivates him to continue rehabilitation and invest every day despite the difficulties and pain. "Knowing that I'll be joining my friends later makes me optimistic. I work as hard I can. It's not fun that I still cannot be one of the gang in the simple way I used to be. Friends do come to visit when possible, but it's not the same as meeting in the morning, going to school and then meeting up again in the afternoon."
Etai's father, Ephraim, admits that it is not the studies that worry him and his son. "Etai says he doesn't care about the teachers because he's 13-years-old, but ultimately there is nearly no more important a personal relationship than that of the teacher and student. Mathematics can be learned from an undergraduate student, but the personal connection and personal example he receives from an adult with a broad worldview is something only a teacher can do. I'm very happy that ALYN understands exactly what is important and invests where it is needed. They emphasize the studies so that he is not left behind, and they also do everything in a fun and cool way, one-on-one and according to his level and abilities, while empowering him and also working on the personal connection."