HONORING THE MEMORY OF CHARLES DIMSTON, Z"L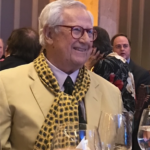 This summer, we mourned the passing of cherished ALYN supporter and beloved American Friends of ALYN Hospital board member, Charles "Charly" Dimston, z"l.
In his lifetime, Charly was always an avid Zionist and a strong supporter of Israel. His love for ALYN Hospital came from his father, Leon Dimston, for whom philanthropy was a priority and giving to ALYN an annual effort.
Charly followed in his father's footsteps, supporting ALYN Hospital and visiting often when he came to Israel. He formed a special relationship with Brenda Hirsch, Director of Resource Development at Friends of ALYN in Israel. Charly's daughter, Danielle, says about Brenda: "She is the cheerleader from the moment you come in the door, excited to share what is new and the best ways that ALYN is making the difference in the lives of young people. She made sure we saw the advances in health care and the bigger picture of ALYN, supporting the families through activities and culture."
Leon and Charly's love for ALYN continues to be passed down through the generations. His children generously support ALYN now as well. "By donating to ALYN, we recognize our grandfather, Leon, and now, our father, keeping them alive in our hearts, keeping their efforts in our eyes, and sharing what made ALYN important to them with our family and friends," says Danielle.
Danielle continues, "He is cherished by family and friends and is very much missed. He lived a long life and he said it was a good trip. He was a Zionist, pragmatic, and supported education for all…adding up to a life well-lived."
May his memory be a blessing and his love for ALYN an inspiration to us all.