Board Spotlight: Paula Glazier
from one generation to the next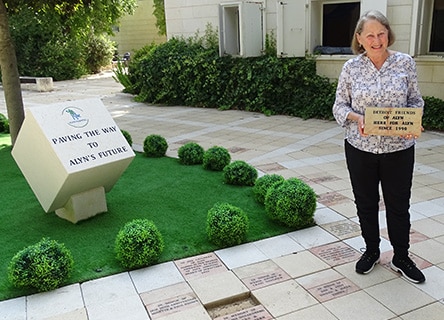 At the beginning of September, I had the privilege to have an in-depth tour of ALYN Hospital with two members of the AFAH staff, Maayan Aviv, Executive Director and Erica Skolnick, Director of Development.
I have visited ALYN a number of times.  I have known about ALYN Hospital ever since I was old enough for my grandmother to tell me about her beloved older brother, Dr. Henry Keller, an orthopedic surgeon in NYC, who made Aliyah in 1932 and established ALYN to take care of children in need.
I am so proud of what the hospital has accomplished in the 90 years since then. It was my honor to be a founding member and a president of the Detroit Friends of ALYN, a group of dedicated volunteers who have raised well over $1,000,000 for the hospital.  And it is now my pleasure to serve on the National Board of the American Friends of ALYN Hospital.
We met with the head of every department, each told us, and where possible, showed us what goes on in their specialty area. The common thread I witnessed was their enthusiasm for their job of helping each child reach their maximum potential.  The patients at ALYN have a wide range of disabilities and so the staff, with regular multi-disciplinary meetings, put their heads together to find and direct each patient's capabilities.  We saw an amazing display of adaptive technology, including joy sticks that can be used to play video games even with minimal hand strength and movement. We also saw children on ventilators still being able to have hydrotherapy in the pool, a usual childhood experience that would otherwise be unavailable for them.
Dr. Eliezer Be'eri, Director of the Respiratory Rehabilitation Department, outlined the mission and vision of the hospital, which I think is well worth repeating.  ALYN takes a holistic approach to rehabilitation.  The goal is to help children with disabilities to participate in society, so the staff works with the whole family, including their extended community, such as the school the child would normally attend. Giving the tools to each child to be able to adapt and meet goals is central to ALYN's success. For instance, there is no one correct way to be mobile.  A person can walk, use a wheelchair, a scooter, a car, crutches, etc. It's perfectly alright to use or be dependent on assistive technology. ALYN's job is to help overcome whatever need a child might have, and if a device might help, and the staff can't find a ready-made one, there is a department at the hospital that will create something specific for that child.  The ultimate goal is to get children home as soon as possible.  ALYN, with its rehabilitation therapy departments, considers itself a bridge from an acute care hospital to home.  
May ALYN continue to go from strength to strength.
Need Assistance?
We Are Happy to Help