Boaz Pelzman's Mitzvah of Love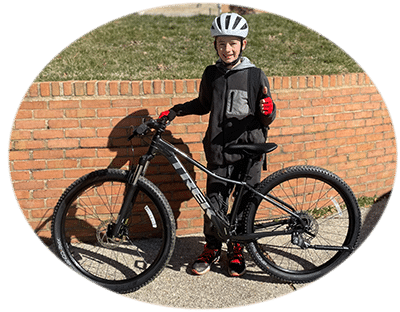 In honor of his bar-mitzvah on June 11th, Boaz will be raising money to support ALYN Hospital in Jerusalem, Israel by biking a minimum of 180 miles throughout the Washington, DC area. The rides will take place from March 1 through May 30, which is Boaz's 13th birthday. Boaz feels a strong connection to the hospital because his great great aunt and uncle, Sarah and Yaakov Basse, were frequent volunteers in the 1960s and 1970s, his uncle, Noah, raised money for the hospital for his bar-mitzvah in 1995, and most recently his father, Phil, participated in the 2019 and 2020 Wheels of Love ride by biking roughly 350 miles in Israel and the U.S respectively., while raising over $5000 for the organization.
Boaz's goal is to raise $20 per mile for a total of $3600 for ALYN. While the Pelzman family is in Israel to celebrate Boaz's bar-mitzvah, he will visit the hospital and learn about how his fundraising efforts will benefit the patients who are being treated there. Your donation to Boaz's mitzvah project will not only support the hospital, but also reinforce Boaz's commitment to helping children with physical disabilities, while continuing our family's connection to ALYN.
Need Assistance?
We Are Happy to Help