Cross-cultural rehabilitation
Just ten years ago, a family from East Jerusalem or new immigrants from Ethiopia or Russia with a child in need of hospitalization could have easily felt lost upon entering a medical facility and not being able to read the signs – which may have been only in Hebrew – that would direct them to the appropriate department. Even worse, they may not have had available to them any medical translators to explain the doctors' diagnoses or instructions from the nurses.
That was before Israel's Ministry of Health established directives for increased cultural competency on the part of healthcare providers. At the time, ALYN Hospital was well ahead of the curve with both an on-site synagogue and a separate designated Muslim prayer room (which has since been expanded due to high demand), as well as signs translated to English and Arabic, trained medical translators and a cultural competency training program for staff members. ALYN was recognized as "The most culturally competent hospital in Israel" by the Jerusalem Inter-Cultural Center.
Since then, ALYN Hospital has continued to prioritize ensuring a welcoming atmosphere for staff, patients and families of all religious and ethnic backgrounds. Hearing Arabic being spoken by a physical therapist who wears a kippah instructing a child to walk slowly and carefully is not uncommon in the halls of the hospital. There are many examples of special patient/therapist relationships made stronger by ALYN's commitment to creating such an inclusive environment.
Shani and Hatem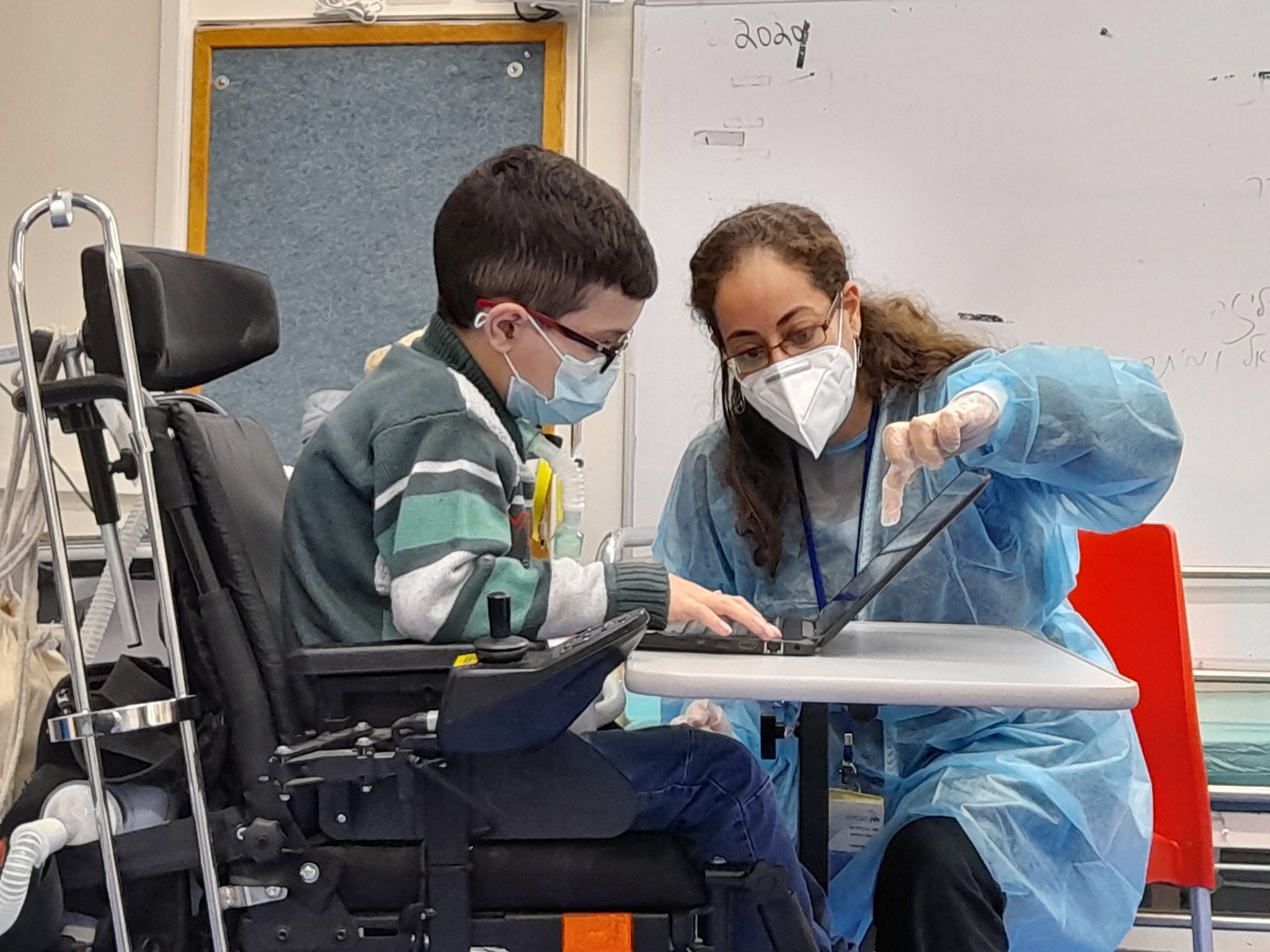 Shani Raz-Zilbeger, who is Jewish, is a veteran Occupational Therapist who has been treating ALYN patient Hatem, who is Muslim, for more than eight years. Hatem, almost 16 years old, lives with his family in East Jerusalem and is a student in ALYN's rehabilitation education medical daycare center. Shani has developed a special relationship with Hatem over the years and speaks to him in a mixture of Hebrew and Arabic (she also knows English).
Hatem uses a ventilator and, when needing to travel long distances, a powered wheelchair. In recent months, with most of the rehabilitation and educational sessions of the daycare center being held remotely, Shani and Hatem's mother, Arij, have also developed a strong relationship. "Arij invests so much in Hatem," Shani explains, "our work with him wouldn't be so successful without her making sure to help him at home and to bring him here once a week."
Arij reflects on when they first came to ALYN, "When we first thought of bringing Hatem to ALYN I was afraid, but not because of any worry about coming to this part of Jerusalem. I was afraid that he would be scared of the other children who had more complicated medical conditions than he. Then, I saw that he was happy here, and I was happy too."
Ruth and Muhammad
"Ruth isn't Muhammad's physical therapist," says Zaid, Muhammad's father, "she is a part of the family!"
Ruth Vitztum, a long-time Physical Therapist at ALYN Hospital, has been treating Muhammad nearly his entire life. After a long period of absence from treatment at ALYN, in part due to COVID-19 limitations and in part due to a fall at home, which resulted in Muhammad having a broken leg, he recently restarted hydrotherapy sessions with Ruth. "He is very excited to see Ruth again and to go into the pool," says Zaid.
Zaid himself has become a part of the ALYN "family" in more ways than one. Besides being Muhammad's father, he also works once a week as a translator for Arabic-speaking families who do not know Hebrew or English. He says, "Because I am father to Muhammad, who has so many challenges, I want to help other families to understand what they need to do in order to best care for their children – what medicines they need, what treatments and to help them to ask questions."
Ruth adds, "From the outside, seeing Jews and Arabs who work together seems like something special. Here, it is just normal."
This sense of "normalcy" in the highly multi-cultural environment of ALYN Hospital cannot be taken for granted. It is the result of years of intentional planning on the part of ALYN Hospital to create an optimal environment in which staff and families can work together to give children with disabilities the brightest future possible.