PELE UPDATE: HIP-JOINT EXERCISE MACHINE WITH VIDEO GAMES
Children with Perthes disease, a disease that affects the hip joint and requires surgery followed by intensive, continuous physiotherapy, need motivation to continue to exercise their hip joint on a regular basis, outside of the designated physiotherapy sessions.
PELE's solution includes three components:
A tripod
A tablet computer loaded with video games
A leg sling that hangs from the tripod, used in place of the tablet's mouse
The child lies underneath the tripod and places his lower leg into the sling. He can then play the video game on the tablet by moving his leg – from the hip joint – in various directions. The portable solution can be used almost anywhere, and the tablet logs the data about the exercises so that the physical therapist can evaluate the quantity and quality of the child's movements.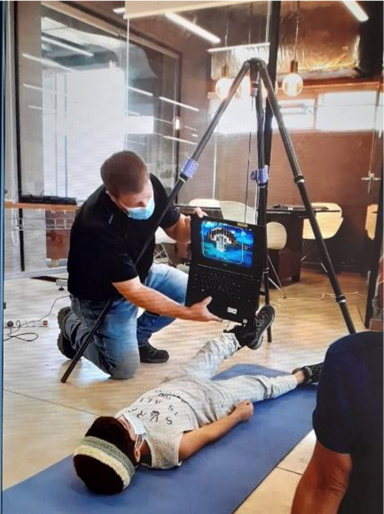 Need Assistance?
We Are Happy to Help