Victoria Grinman and the honor of serving in the IDF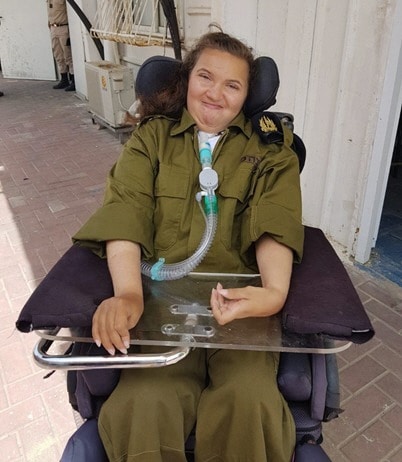 Nineteen-year-old Victoria Grinman knows about being presented with challenges.  At age seven on a trip to the US to visit her grandparents, Victoria and her family were involved in a head-on collision. Victoria was rushed unconscious to a local hospital where doctors did not offer much hope.  Against all odds, after two weeks, Victoria regained consciousness and underwent surgery on her spine. "It was a time full of anxiety," recalls Ina, Victoria's mother. "Following surgery, Victoria was completely paralyzed. As soon as she was strong enough to travel, we decided it was time to go home so that Victoria could start rehabilitation."
In January 2008, the family arrived at ALYN Hospital. "It was at ALYN that Victoria began to truly improve. She began to eat, to talk and to laugh. It was at ALYN that our hope was restored," said Ina. Victoria spent the next two years in an intensive rehabilitation program through the Respiratory Rehabilitation Department. "I was a stubborn little girl. I gave the staff a hard time," Victoria recalled. "It did not bother them. They just kept encouraging me. They gave me the feeling that I could do whatever I set my mind on. This, and the emotional support I received from my family and friends, were critical to my improvement and progress."  Victoria did not let her paraplegic chronic-ventilation dependency stop her from matriculating high-school.
"At the end of 12th grade, all my friends began receiving their draft orders, preparing for army service and receiving their assignments. There was no way I was going to stay home and not serve my country," Victoria stated adamantly.
With her characteristic determination, in April 2019 Victoria began her volunteer service in the IDF.  She was assigned the role of a Mashakit Tash, a non-officer Welfare Commander, with the responsibility of offering lone soldiers or soldiers from challenging home environments the support they need to succeed in their army service. "I really enjoyed this position. I know what it's like to be given obstacles in life and I know what it's like to overcome them. I was able to connect quickly with my soldiers and win their trust."
Due to the pandemic, Victoria has had to temporarily suspend her military service and limit her in-person interactions.  She has shown the resiliency to accomplish great things and we know her next chapter will be a reflection of this strength of spirit.