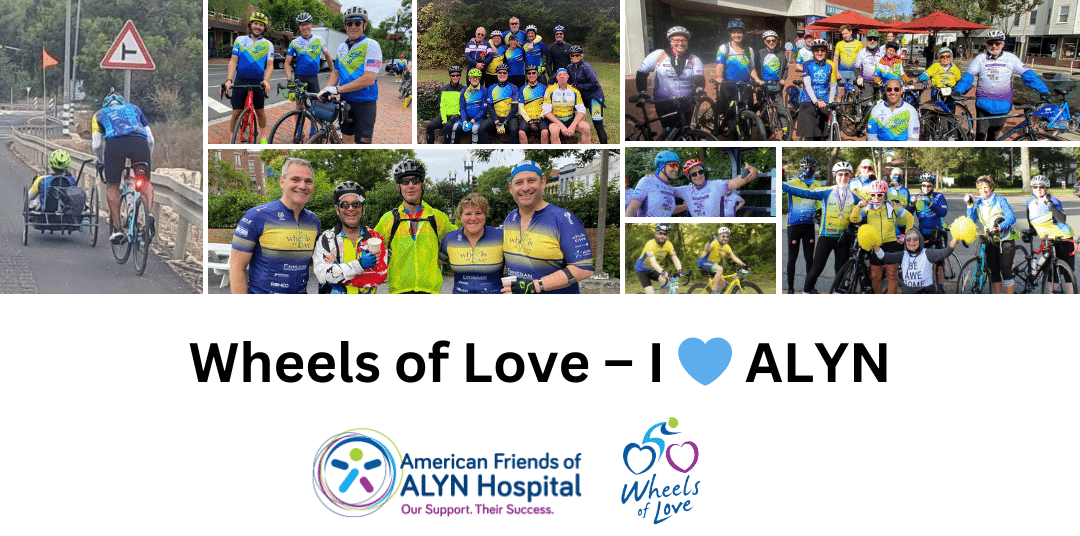 Given the war in Israel, ALYN Hospital needs our help more than ever!
The annual Wheels of Love in support of the kids at ALYN Hospital has become a series of rider-organized local rides.  Please join one of the following, or schedule one in your local community:
Long Island: Sunday, October 22 
Starting at 9:00 AM, 455 IU Willets Rd, Roslyn Heights, NY
Miami, FL:  Saturday, October 21
Meet at 9:30 AM, Alice Wainwright Park on the western
(Miami) side of the Key Biscayne Bridge
Miami, FL:  Sunday, October 22 
Starting 9:00 AM, at The Reserve of Pinecrest
Toronto: Sunday, October 22
Starting 8:30 AM, Kayla's Children Centre,
Johannesburg: Sunday, October 22
Start 06:15 AM. Arch cycles in Melrose Arch
Amsterdam: Sunday, October 22
Meeting: 9:00 AM at Bagels and Beans (Vivaldi)

Israel: Virtual Ride, Sunday, October 22
Meeting 8:00 PM Israel/1:00 PM EST
Start: Zwift Sand and Sequoias Loop
Contact: Yarden Frankl yfrankl@alyn.org
New York City:  Sunday, October 29th - Two meeting times
Meeting 9:00 AM at 86th and Riverside Drive
Meeting 10:00 AM on the New Jersey side of the GWB
Contact Jon Lupkin: jdlupper@gmail.​com
Let's come together, as a community, on our bikes, to support the children currently being treated at ALYN and those who will be arriving soon as a result of the attacks on October 7.
If you have questions about registering or fundraising,
please contact the office (212)869-8085, friends@alynus.​org